Tips To Decorate Your Wedding Dance Floor
Once the ceremonial part of the wedding is over, it is all about the celebration. These celebrations include great food, champagnes, dancing, and much more. That is why you need the right wedding decoration for your dance floor so everyone can have fun. The dance floor décor should complement the rest of the wedding and add a layer of excitement. Here are all the tips to keep in mind when decorating your wedding dance floor.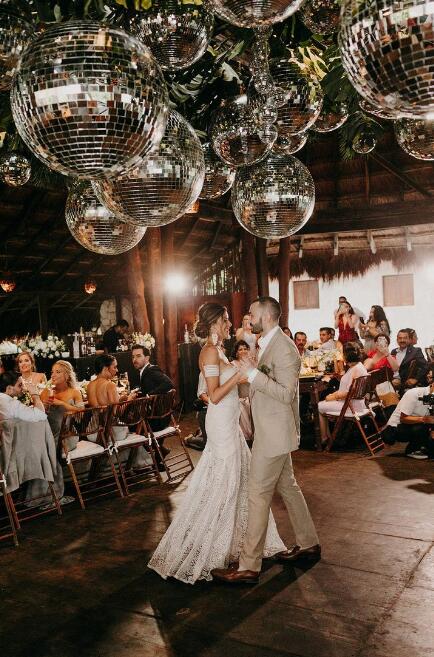 1. Custom Lighting Effects
The most important aspect of a dance floor is lighting. Thanks to technology, you have endless options to choose from. However, one lighting that will always remain a classic will be the disco mirror ball.
The disco mirror ball can be hung above the dance floor or kept in various places around the dance floor. It will create dramatic lighting and an impressive effect that will wow all the guests. Of course, there are other custom lighting options too. These include:
Strobe lights
LED lights
Fairy lights
And many more
You can choose from any of these depending on the aesthetic you want to go for and the experience you wish to provide to your guests.
2. Decorations
The dance floor also needs to be decorated with the right items to create the ambiance you want. You can place a mirror disco ball on different corners of the dance floor in different colors and sizes. These will add a look of glam to the dance floor. After all, disco and dancing are synonymous, so they can serve as a functional piece of decoration that spreads beautiful light all over the dance floor. If you plan on wearing crystal jewelry, then a disco ball is a perfect choice. The light from the mirror disco ball will sparkle your jewelry and make you shine on the dance floor.
3. Wedding Theme
You need to align your dance floor with the rest of your wedding theme. If you are having a retro, urban, or rustic wedding, then a mirror disco ball is the perfect addition. You can take small-sized disco balls and string them along the entire dance floor to create beautiful light effects everywhere.
The disco ball is ideal for creating an upbeat atmosphere to make all your guests want to join the dance floor. Once they do, the celebrations will not stop. Lighting is essential to create the vibe you want for any event.
A simple disco mirror ball with a rotating motor could really make a difference on your dance floor.
Final Words
That was your complete guide on decorating the wedding dance floor with a disco mirror ball. Once you do, you will fall in love with the decorations, and so will your guests. Everybody will want to dance and enjoy the celebrations.
After all, weddings only happen once, and so you need to decorate them in the best way to get the most out of it. So, Use the disco mirror ball for your dance floor and give it a retro and glam look that will invite everyone to dance.